Classifieds
Reach Interested Dental Professionals in Your Area!
The MDS is happy to announce our new-and-improved Online Classifieds Portal, which features:
Consolidated, searchable ad listings
Clean, easy-to-use online interface
Increased visibility for your ad
Buy, sell, or lease with the MDS Classifieds. From equipment, to dental practices, to services, to vacation rentals, our new Online Classifieds Portal will connect you with what you are looking for.
If you are looking for job postings or to place a job ad, please go to our MDS Career Center.
As a member benefit, MDS members automatically receive a 50% discount on all ad rates!
---
VIEW MDS CLASSIFIEDS
---
To post a job please follow the instructions below: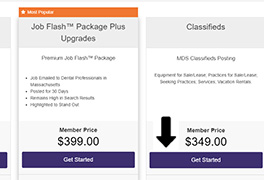 ---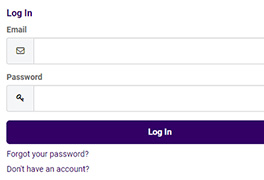 Log in to Your Account
You will be prompted to log in. Please use your MDS login credentials. If you can't remember your login credentials, follow these instructions.
If you are not an MDS member, click "Don't have an account?" to create an account. If you would like to take advantage of member discounts, and many other services, go to massdental.org/join to learn how to join today.
To post a job please follow the instructions below:
---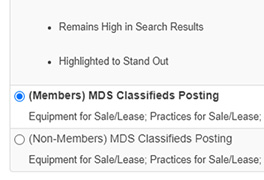 Choose "Type of Ad Posting"
Select your "Type of Ad Posting." Scroll to the bottom of the list for the Classifieds options.
---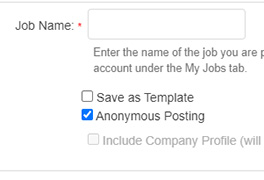 Ad Information
In the "Job Name" field, write the title of your ad for your own records as you would like it to appear in your account. This will not be seen by users.
Select the "Anonymous Posting" checkbox if you would prefer not to show the name of your company.
Under the "Job Basics" tab fill in your ad information.
In the "Position Title" field fill in the name of your ad as you would like it to appear to users. Make sure to also select the category that your ad falls under from the "Category" dropdown menu.
In the "Job Description" section, fill in the description for your ad that you would like users to see.
---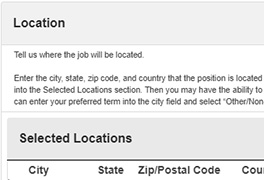 Choose "Location"
Choose the location for your ad from the dropdown menus.
---
Online Applications
Check the "Allow Online Applications" box, if you would like to look at applications through the online portal. You can choose or add who you would like to receive notifications of applications in the recipient section below.
---