Aspida Mail
As you and your practice are aware, the Health Insurance Portability and Accountability Act (HIPAA) has created technical standards about the secure transmission and storage of your patients' personal health information (PHI). Specifically, this is any data that can identify a specific individual including address, birth date, social security number, phone number, medical record number, and X-rays/photos. Any company that deals with PHI must ensure that all the required physical, network, and process security measures are in place and followed.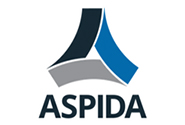 What We Do
Aspida implements an encryption algorithm of AES256, as approved by the National Institute of Standard and Technology (NIST). It also includes IBE dictionary lists, in which emails automatically encrypt themselves if identifying words are used, helping to further decrease any unsecured PHI transmission.
Leverage your existing email client, such as Outlook, Thunderbird, or any IMAP, SSL, and TLS supported system. It can also be easily accessed from any web-enabled device, making your encrypted email available virtually anywhere.
Spam and Malware Included! Best in class protection with real time scanning to make sure all inboxes in the practice stay clutter free.
Simple Implementation: Activation takes less than 24 hours and comes with easy step-by-step instructions.
Cost Effective: There are no set-up fees, hidden fees or any contracts to sign. You can cancel at any time.
How We Can Help You Succeed
Our email solution helps satisfy the HIPAA standards to securely transmit and store patient data or protected health information (PHI). Additionally, all encrypted and unencrypted emails will be backed up and stored for six years to help your practice track and audit email activity.
Special Offers, Promotions, Discounts and Benefits
Aspida is offering all Massachusetts Dental Society members an exclusive discount on Aspida Mail:
First three months at $1/each!
20% lifetime discount on all Aspida Mail plans (after the three month trial)
Contact Aspida
Order online or call 855.927.7432 to place an order.
---
MDS partners are selected based on a review of each company's products or services, as well as their ability to meet the needs of dental professionals. The combined buying power of members is utilized to negotiate special benefits, services, and pricing. The MDS has identified these partners to help save members time and money when shopping for products and services to enhance their operations. The MDS encourages members to take advantage of this benefit and member discounts, while carefully considering which providers will best meet their individual needs.