Eastern Dental Insurance Agency (EDIA)
Personal and professional insurance products for you, your staff, and family.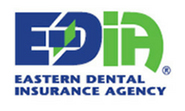 What We Do
Personal and Professional Insurances for you, your staff, and family.
Office Insurance
Building and Contents Insurance
Workers Compensation
Commercial Auto, Commercial Umbrella's, and Bond's
Personal Insurance
Auto Insurance
Homeowner's Insurance
Personal Umbrella's
How We Can Help You Succeed
EDIC helps MDS members with aggressive claims handling, unequaled customer service, part-time and moonlighting policies, and new dentist discounts.
Special Offers, Promotions, Discounts and Benefits
Business Office Package
General liability coverage for slips and falls
Property protection covers your building and contents
Business income and extra expense protection
ERISA bonds to protect your pension assets and those of your employees
Specialized options covering legal expenses for disposal of medical waste and for court and review-board appearances
Discounts available for combined coverage's
Workers' Compensation
Wage replacement and medical benefits to employees injured in the course of employment
Massachusetts requirement



Employment Practices Liability (EPLI)
Protects you and your dental practice against charges or suits on employment-related issues
Issues such as sexual discrimination, harassment, wrongful termination and employment discrimination can arise
EPLI coverage provides for both defense and indemnity payments
Personal Auto
6% discount available for members of the Massachusetts Dental Society
24 hour claims reporting
Free pick up and drop off of rental cars

Homeowners
Personal Umbrella
Up to $3 million in excess liability coverage
Renters' Insurance
If you are renting a property or apartment, protect your contents and personal liability
Content limits range from $15,000 to $500,000
Contact EDIA
EDIA Phone Number: 800.898.3342.
---
MDS partners are selected based on a review of each company's products or services, as well as their ability to meet the needs of dental professionals. The combined buying power of members is utilized to negotiate special benefits, services, and pricing. The MDS has identified these partners to help save members time and money when shopping for products and services to enhance their operations. The MDS encourages members to take advantage of this benefit and member discounts, while carefully considering which providers will best meet their individual needs.