Oral Health and COVID-19
It is safe to go the dentist right now. Yes, even during the COVID-19 pandemic. Yes, even for routine cleanings and exams. This guidance is echoed by both the
U.S. Centers for Disease Control and Prevention
(CDC) and the American Dental Association (ADA). More locally, our colleagues at Dana-Farber/Brigham and Women's Cancer Center's Oral Medicine and Oral Oncology department
also agree
.
Dentists in Massachusetts began re-opening their practices for non-emergency appointments in June following new enhanced health and safety protocols, such as:
Daily patient volume limits
Screening patients in advance of care
Requiring masks for all patients, companions, and staff
Social distancing, as well as minimizing time in waiting areas and minimizing contact between patients through scheduling modifications
Sufficient time in between patients to remove airborne contaminants prior and to thoroughly clean and disinfect the rooms and equipment
Adherence to all other CDC requirements and Massachusetts reopening guidelines
While going to the dentist may look different than it did at your last appointment prior to COVID-19, dental professionals have always been required to complete extensive and ongoing training in infection control.
A recent study from the ADA revealed that less than 1% of dentists have had COVID-19, and there have been no reported instances of COVID-19 transmission taking place in a dental office. These results support the effectiveness of the infection control recommendations from the ADA and CDC in helping to keep dental professionals and patients as safe as possible.
Adult Oral Health During COVID-19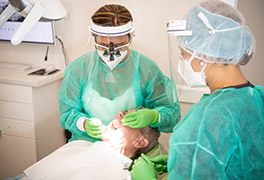 Good oral health is essential to good overall health. The stress of the COVID-19 pandemic can have a cascade effect on adults, leading to other health issues. Financial stress, job loss, childcare challenges, and the fear of becoming ill or spreading the virus to others can cause you to clench, grind, or gnaw your teeth. Individuals who are now working entirely from home are also susceptible to bad oral health habits, such as sipping on sugary or carbonated beverages and snacking more often and not brushing afterward, whereas those in frontline and essential positions may find themselves getting home after a long shift too tired to floss.
Now, more than ever, it is important to keep your regularly scheduled cleanings and check-ups, and seek care for issues that could become emergencies.
According to the American Dental Association (ADA), dentists are reporting an increase in prevalence of the following stress-related oral health conditions since before the COVID-19 pandemic began:
Bruxism
Chipped teeth
Cracked teeth
Temporomandibular disorder (TMD) symptoms
Caries (dental decay)
Periodontal disease
If you are experiencing pandemic-related stress, we recommended the following mental health resources.
Mental Health, Stress, and Anxiety:
COVID-19 Related Resources:
Crisis Helplines & Suicide Prevention:
Maintaining Your Child's Oral Health During COVID-19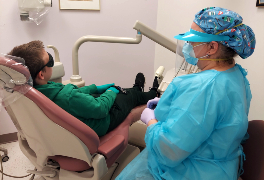 For children especially, overall good pediatric health requires access to physical, mental, visual, and oral health resources and services. According to the National Institutes of Health and the U.S. Centers for Disease Control and Prevention, dental caries (tooth decay) are the most common chronic disease in children—by about four times more than asthma. Untreated cavities can cause pain and infections that may lead to problems with eating, speaking, playing, and learning. Children who have poor oral health often miss more school and receive lower grades than children who don't. In the United States, more than 34 million school hours are lost each year due to dental problems. More anecdotally, with many children learning entirely virtually, dietary habits have likely led to increased decay risk due to more frequent snacking and sipping, immediate access to sugary and carbonated beverages, and disrupted routine in their days. Keeping your child's routine dental appointments is even more important than ever.
If your child has any underlying medical conditions that put them at higher-risk for COVID-19, or live with someone who does, we recommend calling your child's dentist to discuss options.
If your child doesn't have a dentist, use the ADA's Find-a-Dentist tool to search for one in your area.