Don't Let Halloween Candy Play Tricks on Your Kids' Teeth
This article originally appeared in the Summer-Fall 2020 issue of Word of Mouth. Read the entire issue at massdental.org/Word-of-Mouth.

October 1, 2020 – It's probably safe to say that due to the coronavirus, kids in America won't be celebrating Halloween in the traditional way this October. Even though some kids may already wear masks as part of their costumes, the increased risk of contracting COVID-19 may cause parents and communities to press pause on trick-or-treating and seek out other safer ways for kids to celebrate. That may take the form of driving the kids to only family members' houses, ringing the doorbells of just a few close neighbors(and wiping down candy packets with antibacterial wipes), or having children trick-or-treat at home, which sounds like less fun but is one way to ensure that everyone gets their favorite candy. While this all might make you want to say "Boo!" to COVID-19, odds are a fair share of candy will still be consumed this Halloween, so Moms and Dads shouldn't forget about the effect all that sugary stuff could have on their kids' teeth.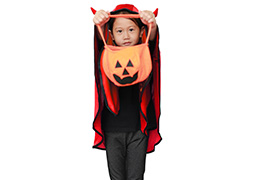 While consuming several pieces of candy on Halloween may not immediately be harmful to your teeth, excessive and continuous candy consumption can impact oral health. The more you eat sugary foods like candy, and the longer sugars remain in your mouth before you brush your teeth, the greater your risk for tooth decay, especially in young children. Teeth are more susceptible to decay during the first few years after eruption in the mouth. Since children are getting teeth until around age 13, their teeth are more vulnerable to decay.
You also want to be mindful of the types of candy your child is consuming. Sticky, gummy candies have the most cavity-causing potential, because these types of treats get easily stuck between teeth and orthodontic brackets, and as a result are not easily brushed away. Hard candies can also be an issue because they are consumed slowly, exposing the mouth to sugar over longer periods of time.
Parents should make sure that children brush and floss their teeth after eating candy, and shouldn't let them go to sleep without brushing the sugary residue from their teeth.
Another piece of advice for parents is to not let Halloween treats hang around the house for too long. Parents may want to consider allowing their kids to have a few pieces of candy each day for one week and then hiding, tossing, or donating the rest.
It's been a challenging year for everyone, especially children, but with some minor adjustments, you can let them have some Halloween fun and keep them smiling despite what's happening outside your front door.