Going to the Dentist in a Pandemic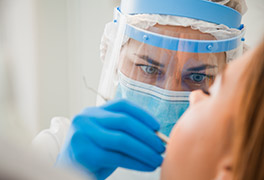 June 5, 2020 – MDS President-Elect Dr. MaryJane Hanlon spoke to AARP about what patients can expect now that dental offices across Massachusetts are beginning to re-open for routine appointments.
"With a phone call or video chat, the dentist may be able to allay your fears," Says Dr. Hanlon. "A great way to minimize your exposure is to try and do telehealth first and then proceed to going to the office," she adds. "Distance is one of the best tools we have to avoid being exposed to this virus, according to the CDC."