Phase 2 and Dental Hygiene
Updated 6/6/20
On June 6, 2020, Governor Charlie Baker announced Phase 2 reopening details for the Commonwealth. Phase 2, which is referred to as the "Cautious Phase," allows dental providers to cautiously and incrementally resume all elective, non-urgent procedures and services,
including routine hygiene appointments
. Phase 2 initially excluded elective cosmetic services, but effective June 24, those procedures are now allowed.
Phase 2 incremental dental care started on Monday, June 8. The Massachusetts Department of Public Health's (DPH) Reopening Guidance report
provides details for the phased reopening of the state. The Massachusetts Dental Society (MDS) is pleased with this plan, and applauds the contributions of MDS representatives President Dr. Janis Moriarty and former Treasurer Dr. Thomas Trowbridge for their ongoing participation in the Reopening Advisory Board's stakeholder meetings, their advocacy on behalf of dental facilities, and their commitment to safely and cautiously expanding dental care throughout the Commonwealth. Phase 2 allows dentists to apply their professional judgment to determine what care should be provided for their patients.
In order to move forward into Phase 2, dentists must maintain ongoing compliance with public health and safety standards identified in Phase 1. Phase 2 is also contingent on Massachusetts' ability to maintain sufficient statewide hospital bed capacity (>30% ICU and >30% inpatient bed capacity, statewide), which was also included in Phase 1 requirements. As the governor noted, if the data begins to show a backward trend, it is possible that care will again become limited to Phase 1 or emergency services.
Supervising dentists should expand services cautiously, and must use their clinical judgment to prioritize urgent services, emerging services, and preventive care. Prioritization criteria should promote equitable access to care for all populations. Dental providers should continue to defer elective cosmetic procedures to future phases. The second phase includes an increase in allowable dental procedures for those providers who are able to meet key public health criteria as set by the DPH.
Building off of the requirements of Phase 1, dentists will need to attest to public health standards and specific guidelines:
Have current adequate supply of personal protective equipment (PPE) and maintain adequate supply on an ongoing basis without support from the state stockpile
Meet public health and safety standards in the domains of workforce safety, patient safety, and infection control
Designate a compliance leader at the highest level of the organization
Attest to and maintain the attestation form (NEW LINK) acknowledging that they meet all of the requirements in PPE, health and safety standards, and compliance standards. Practices must retain this attestation for inspection upon request by the DPH.
In addition to the safety standards outlined in Phase 1, Phase 2 requires dentists to create an addendum to their Phase 1 attestation form that documents the practice's prioritization policy for providing and scheduling Phase 2 care. The prioritization plan should focus on the high-priority services (emergency/urgent, emerging needs, and preventive services) that if left untreated could lead to high risk or significant worsening of the patient's condition if deferred. Dentists should prioritize care for patients as follows:
Emergency or urgent
Previously in the middle of treatment or treated during emergency care
Disease management, trauma, compromised function, and frequently cared for patients
At-risk patients to prevent potential dental emergent and urgent care situations
Continuity of care
Recall preventive and routine comprehensive dental care
The prioritization plan should identify patients and services that, based on the provider's clinical judgment, are most critical and time sensitive. Elective cosmetic services should be deferred until a future phase. The addendum should be kept with the attestation form and maintained and updated as needed.
Ultimately, supervising dentists must use their clinical judgment to determine which procedures for which patients may continue being deferred within parameters set forth by the state. The MDS is here only to offer broad guidance and point to official state guidelines.
We understand this can be a confusing time. As practices move to expand care, it is important to work together and communicate openly with your supervising dentist to express your concerns and discuss the changes that will occur in your practice due to COVID-19 as you move forward in this phased reopening. Hygienists play a vital role on every dental team. Together, you can make sure your team is strong, compliant, and following all safety measures.
Join the MDS
Would you like to unlock access to all of the information and updates available exclusively to MDS members? If your dentist is an MDS member, you can sign up for complimentary membership today. If your dentist is not a member, you can join for a small yearly fee of $35. Go to massdental.org/join and make sure to choose "Allied Dental Health Professional (ADHP)" as your member type.
Licensure
A dental hygienist licensed to practice in the Commonwealth must complete a minimum of 20 CEUs per renewal cycle. The two-year cycle runs from April 1 to March 31 of odd years (e.g., April 1, 2019, to March 31, 2021). The MDS provides members with complimentary CE opportunities online. Go to massdental.org/learning to view on-demand options and look out for our emails for upcoming webinars.
Frequently Asked Questions
The MDS has compiled the following questions and answers to offer general guidance to hygienists regarding the phased reopening of dental practices. We will continue to update this section as more information becomes available or as information changes.
Have a question you don't see answered?
Contact us
.
How Do Massachusetts Residents Feel About Returning to the Dentist?
The MDS recently commissioned a poll of Massachusetts residents regarding their perception of returning to dental offices for care. The poll highlighted that the majority of residents (63%) feel safe returning to dental offices as Massachusetts begins reopening. Importantly, the results show that patients feel safer due to dental offices using increased PPE (55%) and dentists' high level of infection control training (72%). When communicating with patients, the MDS recommends that dental practices highlight their expertise in infection control and that offices will be using more PPE in order to keep patients and staff safe.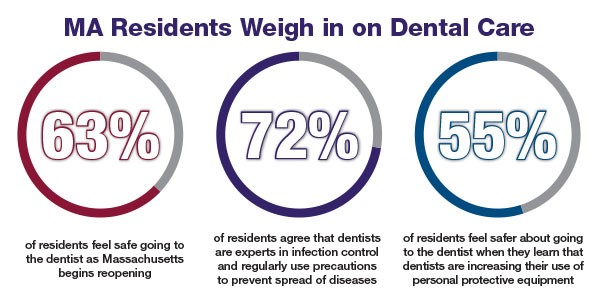 What Are the Required Public Health Criteria and Safety Standards for the Dental Practice?
All workers must have appropriate PPE to perform the service/procedure. If appropriate PPE is not available to protect the health care worker, the service/procedure should be canceled.
Health care providers and staff must wear surgical face masks at all times.
Facility or office must ensure social distancing for providers and staff to the maximum extent possible.
Eye protection (goggles, visor, or mask with visor) must be provided and worn by all health care professionals while engaged in direct patient care for procedures with increased potential for droplet aerosolization.
Providers must take steps to minimize the number of health care workers in the facility or office to those individuals necessary to complete the surgery/procedure.
Providers must have a written protocol in place for screening all employees for symptoms of COVID-19 prior to entering the facility or office.
Providers must adopt written policies that address worker safety and well-being.
What Are the Required Public Health Criteria for Safety Standards for Patient Safety?
Providers must have a process for screening patients and companions for symptoms of COVID-19 prior to entering the practice.
Providers must have policies and procedures for screening patients in advance of a service or procedure, including policies and procedures for testing patients for COVID-19 when medically appropriate, as well as for determining whether a procedure should go forward if a patient tests positive.
Providers must develop policies permitting patient companions only in special circumstances or otherwise in adherence with Massachusetts Department of Public Health (DPH) and CDC guidance when necessary for the patient's well-being. Special circumstances and populations may include pediatric patients and other special populations such as patients with disabilities or patients with intellectual or developmental disorders (e.g., autism, Down syndrome, etc.). These policies must be accessible to patients seeking care.
Providers must require that all patients and companions wear mouth and nose coverings. However, the provider may consider waiving the requirement for mask and nose coverings for patients and/or companions in special circumstances.
What Are the Donning and Doffing Requirements for PPE?
The CDC recommends multiple sequences for the donning and doffing of PPE. Dental settings should have set policies and procedures describing a recommended sequence for safely donning and doffing PPE for all dental health care professionals in the practice.
What PPE Is Recommended for Aerosol-Generating Procedures?
Per the CDC's Interim Infection Prevention and Control Guidance for Dental Settings During the COVID-19 Response, during aerosol-generating procedures conducted on patients assumed to be non-contagious, DHCPs should consider the use of an N95 respirator or a respirator that offers a higher level of protection, such as other disposable filtering facepiece respirators, PAPRs, or elastomeric respirators, if available. Respirators should be used in the context of a respiratory protection program, which includes medical evaluations, training, and fit testing.
Is There an Alternative to N95 Respirators for Aerosol-Generating Procedures Conducted on Patients Assumed to Be Non-Contagious?
What Does the CDC Recommend for Patient Placement?
In its Interim Infection Prevention and Control Guidance for Dental Settings During the COVID-19 Response, the CDC recommends:
Ideally, dental treatment should be provided in individual patient rooms whenever possible.
For dental facilities with open floor plans, to prevent the spread of pathogens there should be:

At least six feet of space between patient chairs.
Physical barriers between patient chairs. Easy-to-clean floor-to-ceiling barriers will enhance effectiveness of portable HEPA air filtration systems (check to make sure extending barriers to ceiling will not interfere with fire sprinkler systems).
Operatories should be oriented parallel to the direction of airflow if possible.

Where feasible, consider patient orientation carefully, placing the patient's head near the return air vents, away from pedestrian corridors, and towards the rear wall when using vestibule-type office layouts.