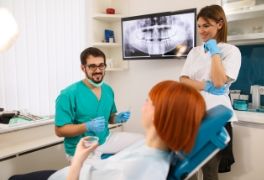 Before taking your dental health in your own hands, talk to your dentist. When you see a licensed dentist, he or she will assess your overall oral health.
Through a clinical examination of your teeth, bite, jaw alignment, and the relationship of your teeth to your skeletal structures, your dentist or orthodontist will identify any problems, especially those not seen with the naked eye. An in-person exam and X-rays are often critical for diagnosing if a specific treatment is right for you and helping to ensure any treatment does not lead to more problems than it cures.
Your dentist can discuss the risks and benefits to any dental treatment, as well as options that address budgetary concerns.
The Massachusetts Dental Society (MDS) and the American Dental Association (ADA) discourage the use of direct-to-consumer dental products, including aligners, veneers, mouthguards, snoring appliances, teeth whitening trays, and bleaching products. Self-administered, unsupervised dental treatments have the potential to cause damage and irreversible complications for patients.