Publications
The Massachusetts Dental Society produces three highly respected and award-winning publications. The quarterly Journal of the Massachusetts Dental Society includes clinical and practice management articles and the bi-monthly MDS Connection, a digital member newsletter, covers licensure, regulatory, and practice management topics, as well as MDS initiatives and updates to help member dentists improve their daily practice and plan their careers. The semi-annual Word of Mouth is a consumer newsletter that aims to educate the dental patient on the importance of oral health with timely articles on dental conditions and oral hygiene that affect their health.
MDS Journal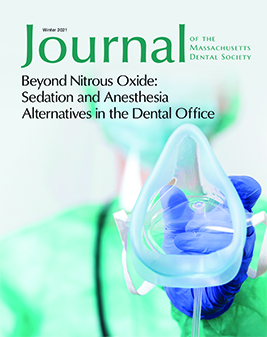 Details
MDS Journal
MDS Connection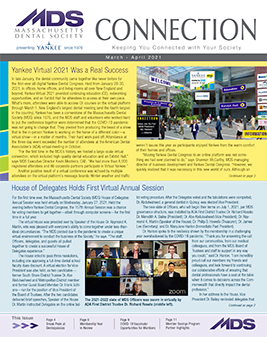 Details
MDS Connection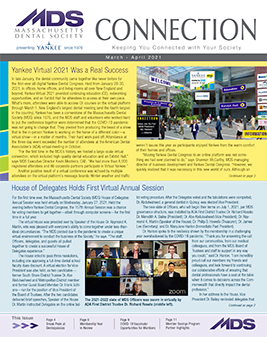 March-April 2021
In this issue:
Yankee Virtual 2021 Was a Real Success
House of Delegates Holds First Virtual Annual Session
A Sneak Peek at Dentalpalooza
COVID-19 Vaccinator Opportunities for Members
Office Depot Joins the Member Savings Program
Word of Mouth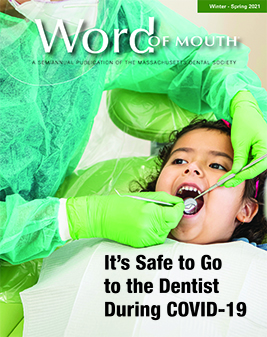 Details
Word of Mouth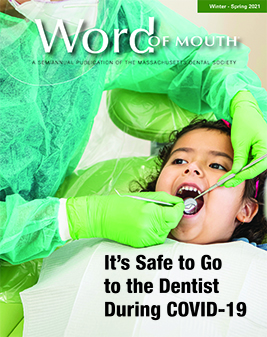 Winter-Spring 2021
It's Safe to Go to the Dentist During COVID-19
Since the COVID-19 pandemic first hit the United States, our lives have changed dramatically. Quarantine lockdowns have forced many of us to switch on a dime to working from home and learning virtually. We've worn face masks, washed our hands, and used hand sanitizer. We've followed social distancing guidelines and stayed home, canceling in-person playdates, family gatherings, and large holiday celebrations. We've done all this to help slow the spread of the coronavirus so that we can protect our community, our loved ones, and ourselves. Fear of contracting COVID-19 has been a big influencer in the past year, and for good reason. However, the Massachusetts Dental Society wants to let residents know that you shouldn't let that fear force you to overlook your oral health. It is safe to go to the dentist right now, even for routine cleaning and exams. Your teeth and gums hold important clues to other health issues (such as heart disease, stroke, diabetes, premature births, and osteoporosis), so delaying your routine dental care could be detrimental to your oral and overall health.
Also in This Issue:
Download Entire Issue
Advertising Opportunities
The Massachusetts Dental Society offers a variety of advertising opportunities.