Publications
The Massachusetts Dental Society produces three highly respected and award-winning publications. The quarterly Journal of the Massachusetts Dental Society includes clinical and practice management articles and the bi-monthly MDS Connection, a digital member newsletter, covers licensure, regulatory, and practice management topics, as well as MDS initiatives and updates to help member dentists improve their daily practice and plan their careers. The semi-annual Word of Mouth is a consumer newsletter that aims to educate the dental patient on the importance of oral health with timely articles on dental conditions and oral hygiene that affect their health.
MDS Journal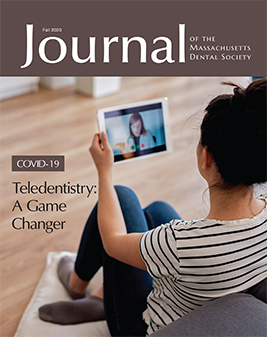 Details
MDS Journal
MDS Connection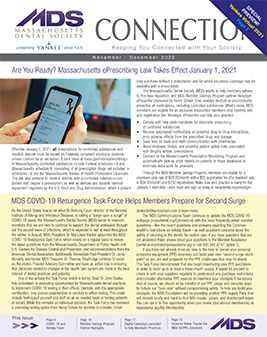 Details
MDS Connection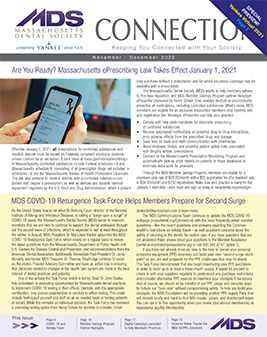 November-December 2020
In this issue:
Are You Ready? Massachusetts ePrescribing law takes effect January 1, 2021
MDS COVID-19 Resurgence Task Force helps members prepare for second surge
Special Preview: Yankee Virtual 2021
COVID-19 and holiday travel
Digital campaign launched to drive patients to members' practices
Word of Mouth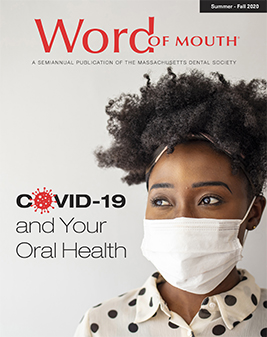 Details
Word of Mouth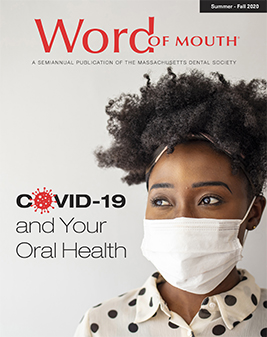 Summer-Fall 2020
Health experts have spent most of 2020 instructing us on how we can all help flatten the curve and slow COVID-19 infection rates by washing our hands with soap and warm water for at least 20 seconds and following social distancing guidelines such as wearing a mask, avoiding large gatherings, maintaining a safe distance (6 feet away) from others, and staying home if we're not feeling well. The coronavirus is scary enough and warrants our concern, but things are about to get even more complicated as we enter cold and flu season. But by following some basic precautions, you and your family can stay physically healthier and maintain good oral health.
Also in This Issue:
Advertising Opportunities
The Massachusetts Dental Society offers a variety of advertising opportunities.