Publications
The Massachusetts Dental Society produces three highly respected and award-winning publications. The quarterly Journal of the Massachusetts Dental Society includes clinical and practice management articles and the bi-monthly MDS Connection, a digital member newsletter, covers licensure, regulatory, and practice management topics, as well as MDS initiatives and updates to help member dentists improve their daily practice and plan their careers. The semi-annual Word of Mouth is a consumer newsletter that aims to educate the dental patient on the importance of oral health with timely articles on dental conditions and oral hygiene that affect their health.
MDS Journal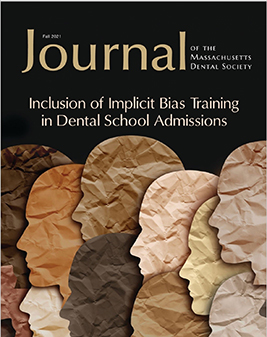 Details
MDS Journal
MDS Connection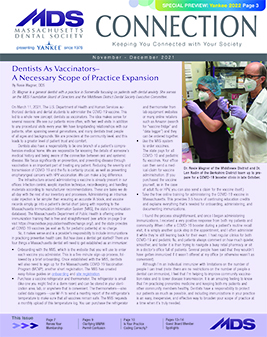 Details
MDS Connection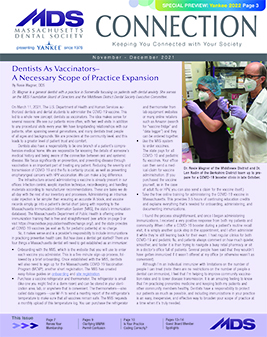 November-December 2021
In this issue:
Dr. Rosie Wagner Discusses Dentists as Vaccinators
President's Message: The MDS Values Your Membership
Special Preview of Yankee Dental Congress 2022
How the Right vCIO Can Help Your Practice
Meet the 2021-2022 Guest Board Members
Word of Mouth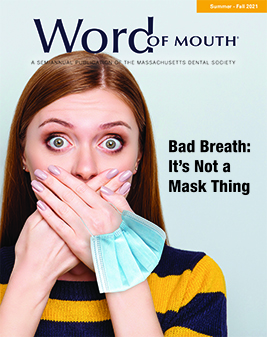 Details
Word of Mouth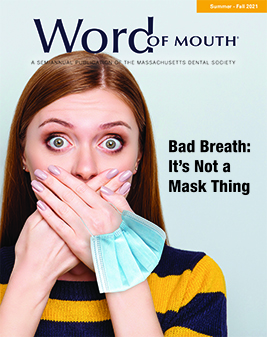 Summer-Fall 2021
Bad Breath: It's Not a Mask Thing
Since face mask guidance and mandates were implemented last year to help slow the spread of COVID-19 and keep ourselves, our loved ones, and our communities safe, many people have become aware of something that previously eluded them: they have bad breath. And while some may think that wearing a mask causes bad breath, the fact is that if you have bad breath (also known as halitosis), it already existed. Donning a face mask has just put the stinky news, well, right under your nose.
Also in This Issue:
Advertising Opportunities
The Massachusetts Dental Society offers a variety of advertising opportunities.