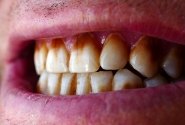 Smoking and tobacco products can cause bad breath and stained teeth, but that's only the beginning. Possible
oral health impacts of smoking and all tobacco products
include:
Stained teeth and tongue
Dulled sense of taste and smell
Gum disease
Oral cancer
Slow healing after a tooth extraction or other surgery
Difficulties correcting cosmetic dental problems
Cigarettes, cigars, and pipe tobacco are made from dried tobacco leaves. Other substances are added for flavor. The smoke from these products is a complex mixture of
harmful chemicals
produced by burning tobacco and its additives.
According to the
American Cancer Society
, at least 70 of the chemicals in tobacco smoke are known to cause cancer, including nicotine, formaldehyde, lead, arsenic, ammonia, benzene, carbon monoxide, and others. Some of these substances also can cause heart disease, lung disease, or
other serious health problems
.