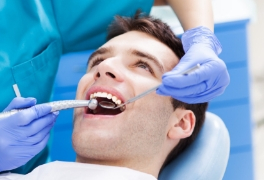 Regular dental exams not only help maintain healthy teeth and gums, they allow your dentist to be on the lookout for developments that may lead to future health problems, including oral cancer.
Be sure to inform your dentist about changes in your oral health, including any recent illnesses or chronic conditions, even if they seem unrelated to your mouth. Also, provide him or her with a current list of all medications you are taking, including prescription and over-the-counter. Finally, make certain to follow your dentist's recommendations, including any home care regimen.

Regular brushing, flossing, and visits to the dentist will help you maintain a healthier mouth, as well as an overall healthier you.