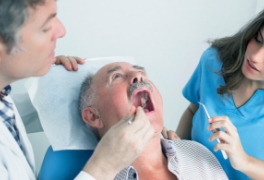 When it comes to oral cancer, early detection is key. According to the
Oral Cancer Foundation
, approximately 53,000 people in the United States will be diagnosed with oral or oropharyngeal cancer this year, and it will cause more than 9,750 deaths. On average, 57% of those diagnosed with the disease will survive more than five years. When found in early stages, oral cancers can have an 80-90% survival rate. However, the majority are found as late-stage cancers when they may have spread to other locations, such as the lymph nodes in the neck area.
Regular dental checkups that include an examination of the entire head and neck can be vital in detecting cancer early. It's important to talk to your dentist if you've had any changes in your medical history or if you've been experiencing any new or unusual symptoms.
As part of an oral cancer screening, your dentist will check your oral cavity—including your lips, cheek lining, gums, the front part of your tongue, the floor of your mouth, and the roof of your mouth. He or she also will examine your throat at the soft part at the roof of your mouth, including your tonsils, the back section of your tongue, and where your tongue attaches to the bottom of your mouth. The dentist will then feel your jaw and neck for any lumps or abnormalities.