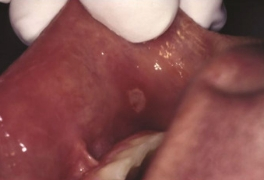 The canker sore most commonly appears on the inside of the mouth and is not considered contagious. There may be only one canker sore in your mouth or several and, unfortunately, they often return.
The actual cause of these annoying mouth sores is unknown. However, certain factors such as stress; trauma; food allergies; eating certain foods like chocolate, nuts, and citrus fruits; and vitamin deficiencies appear to trigger the onset of a canker sore.
There are several over-the-counter options for relieving canker sore pain including antibacterial mouthwashes, pain-relieving gels, and saltwater rinses. Consult your dentist if you aren't sure which remedy to use. Most canker sores heal within two weeks. However, if yours lasts longer than that, contact your dentist.