AHI Travel
Reward yourself for all your hard work and take a journey-of-a-lifetime through AHI Travel.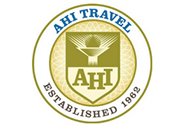 What We Do
AHI Travel is a creative travel company recognized around the world for its design and operation of deluxe international travel programs.
When you embark upon an AHI Travel program, you will encounter the life, people, history, art, architecture, food, wine, and culture of the regions you visit at a tremendous value. Our expertly planned itineraries balance the benefits of group travel with leisure time, and best of all, you will travel amid the camaraderie of colleagues, alumni, and friends.
How We Can Help You Succeed
In partnership with the ADA, AHI Travel offers exclusive dentists-only travel packages. AHI Travel understands that dentistry is a demanding career and that dentists need opportunities to get away and relax on their time off. With this in mind, AHI offers deluxe international travel programs so you can take the journey-of-a-lifetime.
Special Offers, Promotions, Discounts and Benefits
Experience the World with Active Adventures from AHI Further
AHI's unique further tours are designed for the curious, active traveler who desires a spot-on mix of adrenaline-fueled activities, must-see highlights, deep cultural experiences and the freedom to do your own thing. Join a small group of like-minded travelers who, like you, crave flexible, fresh, and fun adventures in exotic locations.
The best part? AHI Futher's active adventures get you closer to each destination by letting you hike, bike, kayak, and snorkel your way through it. They provide the equipment, the experts, and the opportunity. You provide the energy.
Three Unique trips offered in 2023 with several departure dates to choose from:
MDS members who book a trip through Further save $100 per traveler. Bring your friends and everyone saves $100!
Contact AHI Further:
877-572-5159
---
MDS partners are selected based on a review of each company's products or services, as well as their ability to meet the needs of dental professionals. The combined buying power of members is utilized to negotiate special benefits, services, and pricing. The MDS has identified these partners to help save members time and money when shopping for products and services to enhance their operations. The MDS encourages members to take advantage of this benefit and member discounts, while carefully considering which providers will best meet their individual needs.