Merrimack Valley District Dental Society
Members of the Merrimack Valley District have a primary address in the cities of Andover, Billerica, Bradford, Byfield, Chelmsford, Dracut, Groveland, Haverhill, Lawrence, Lowell, Merrimac, Methuen, North Andover, Tewksbury, Tyngsborough, Wamesit, and Westford.
MDS Governance Structure
The House of Delegates approved a new governance plan for the Society in order to make the MDS more responsive to the emerging needs of members. Starting in 2020, all Districts will begin to transition to become part of six Regions.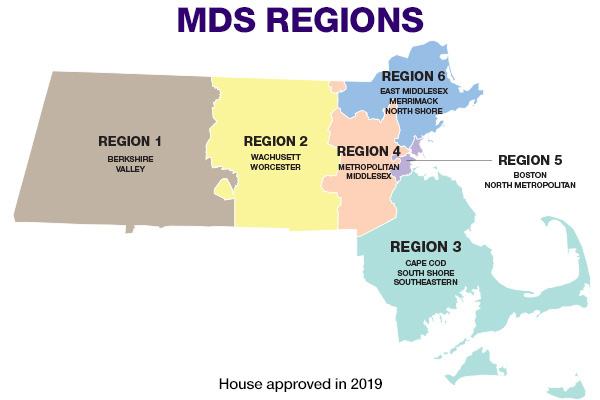 Region 1

Berkshire District
Valley District
Region 2
Wachusett District
Worcester District
Region 3
Cape Cod District
South Shore District
Southeastern District
Region 4
Metropolitan District
Middlesex District
Region 5
Boston District
North Metropolitan District
Region 6
East Middlesex District
Merrimack District
North Shore District
The plan calls for a two-year phase-in, which when completed in 2021, will result in a nimble Board of Trustees consisting of six Regional Trustees, one At-Large Trustee, President, Vice President, Immediate Past President, Secretary, Treasurer, Speaker of the House, and Executive Director. It is important to note that this change does not in any way modify the current composition of Districts.
The following Districts will be submitting Regional Trustee candidates at the House of Delegates in January 2020, eliminating the District Trustee position:
Boston
Cape Cod
North Metropolitan
South Shore
Southeastern
Wachusett
Worcester
The following Districts will be submitting Regional Trustee candidates at the House of Delegates in January 2021:
Berkshire
East Middlesex
Merrimack Valley
Metropolitan
Middlesex
North Shore
Valley