Massachusetts Dental Society Applauds Gov. Baker Action Declaring Vaping a Public Health Emergency
September 24, 2019
–
Today, Governor Charlie Baker announced that he was declaring a public health emergency amid a recent spate of vaping-related lung illnesses. He also announced that he would request the Public Health Council to order a four-month ban on the sale of all vaping products in Massachusetts.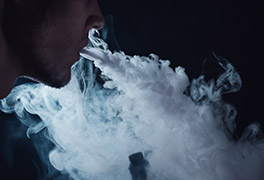 In response to the announcement, Massachusetts Dental Society (MDS) President Janis Moriarty, DMD, issued the following statement:
"Reducing tobacco use is a priority issue for the MDS due to the oral health complications caused by smoking and tobacco products. In addition to heart disease, lung disease, and other health problems, tobacco use has been associated with serious oral health impacts, including oral cancer and gum disease.
While smoking e-cigarettes, or 'vaping,' is believed to pose fewer health risks than smoking regular tobacco cigarettes—the leading cause of preventable death in the United States—it is by no means harmless. E-cigarettes still contain nicotine—the addictive drug in regular cigarettes, cigars, and other tobacco products—which increases the risk of high blood pressure and diabetes. E-cigarettes also can have a significant impact on oral health. A study supported by the American Dental Association Foundation determined that vaping sweetened e-cigarettes can increase the risk of dental cavities. Additionally, the nicotine in e-cigarettes reduces blood flow, restricting the supply of nutrients and oxygen to the soft tissues of the mouth. This can cause the gums to recede and exacerbate periodontal diseases. Reduced blood circulation also inhibits the mouth's natural ability to fight bacteria that can accelerate infection, decay, and other problems.

"Today's announcement by Governor Baker is a positive step toward protecting Massachusetts youth—and all residents—from tobacco and nicotine addiction, and its detrimental impacts on oral and overall health."

To learn more about the impact of tobacco and vaping on oral health, visit massdental.org/vaping.