COVID-19 Vaccine Now Available to All Phase 1 Groups
January 22, 2021 – The COVID-19 vaccine is now open to all remaining Phase 1 groups in the state's vaccine distribution plan, including dental professionals providing patient-facing care. Massachusetts Governor Charlie Baker made the announcement on Thursday. The Massachusetts Dental Society (MDS) encourages dental health care professionals who are interested in receiving the vaccine to view the online map of locations providing vaccines to eligible individuals and schedule an appointment as soon as possible.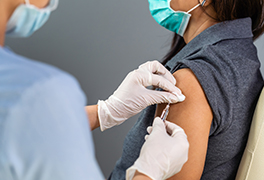 The official statement from the MDS:
"Dental teams are primed to support both the Commonwealth's and the Biden Administration's goals of getting COVID-19 vaccinations into the arms of the public. But first, these health care professionals who make their livelihoods within inches of patients' mouths and potentially infectious aerosols, must get vaccinated themselves. The Massachusetts Dental Society (MDS) thanks the Baker Administration and public health officials for opening distribution of COVID-19 vaccines to all groups included in Phase 1 of the Commonwealth's plan.
Since the early days of the pandemic, MDS members closed their offices to protect public health, used their highly trained skills to lighten the load on fellow health care professionals by keeping patients with dental emergencies away from the ER, implemented new safety measures and protocols to keep patients and communities safe, and continued to provide critical oral health services to people without contributing to community spread. Dental teams have expertise in infection control, prowess at providing injections, and locations in communities across the country that stand ready, willing, and able to help get us to the other side of the pandemic as well as support the president's goal to get 100 million vaccines into arms in 100 days."
–The Massachusetts Dental Society
Read the article from State House News Service.
Read the article from MassLive.