The MDS Mourns Passing of Executive Director Conor McNulty
July 15, 2020 – Massachusetts Dental Society (MDS) Executive Director Conor McNulty passed away unexpectedly on Monday, July 6, 2020, at his home in Framingham. He was 41. Conor joined the MDS as Executive Director on March 9, 2020, after an extensive nationwide search. Prior to his appointment with the MDS, he served as Executive Director of the Oregon Dental Association (ODA) since 2014 and held various management roles with the California Dental Association from 2005–2014. In an email to members, MDS leadership stated that "even though Conor's time with the MDS was brief, his impact will be long lasting and cannot be overstated."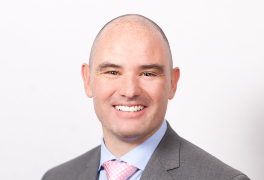 Conor was born and raised in Portland, Oregon, and studied marketing and played soccer at the University of Wisconsin Green Bay and the University of San Francisco, where he received a Bachelor's degree in marketing. A lifelong athlete, Conor continued to play semi-pro soccer after college and enjoyed coaching youth soccer clubs in California and Oregon.
Conor is survived by his wife, Genevieve McNulty, and four children, Russell, Ally, Molly, and Libby; his parents, Jon and Deb McNulty; his sister, Erin McNulty; his grandmother, Dolores Schmidt; and uncles, Mike McNulty and David Schmidt.
The McNulty family asks those wishing to honor Conor to consider donating to The Bald Faced Truth Foundation, an Oregon-based charity that supports children in art, music, education, and athletics. If you would like to make a donation to the McNulty children's 529 college savings accounts, you can do so at www.ugift529.com and enter code C5W-R8J. Members who wish to send cards to Conor's wife and children can mail them to: The McNulty Family, c/o Massachusetts Dental Society, Two Willow Street, Suite 200, Southborough, MA 01745. Cards for Conor's parents and sister should be sent to: Mr. and Mrs. Jon McNulty, c/o Massachusetts Dental Society, Two Willow Street, Suite 200, Southborough, MA 01745.
In February, Conor expressed his excitement at taking on the Executive Director role at the MDS. "I am honored and thrilled to join such a dynamic and respected organization as the Massachusetts Dental Society," he said. "I look forward to supporting MDS members and am excited to work closely with the leadership and talented staff to continue advancing the strategic vision of the organization each day." He assumed the role from Dr. Robert Boose, EdD, who retired after serving as MDS Executive Director for 18 years, and who was familiar with Conor's work.
"I was thrilled for Conor, personally and professionally, when he accepted the position as Executive Director, after having watched and worked with him over the last 5 to 6 years as a colleague when he was at the ODA," says Dr. Boose.
Active and recognized as a leader within association management circles prior to joining the Society, Conor held a Certifi ed Association Executive (CAE) designation from the American Society of Association Executives and in 2017 was honored as a Forty Under 40 Association Leader by Association Forum of Chicagoland and USAE News. Before pursuing a career in association management, Conor worked in corporate marketing, publishing, and business development.
During his brief tenure at the MDS, Conor impressed Society leaders with his management skills and knowledge of organized dentistry. "In the short amount of time I spent with Conor, I was overly impressed with his insights into dentistry, his keen business-minded approach, and his use of metrics and gauging of success," says MDS President Dr. MaryJane Hanlon. "I have no doubt he would
have attained the highest level of leadership as an Executive Director and knew we might not have him long due to his impressive talents. I am saddened the most by the loss of leadership to the MDS and the potential that we had to bring the organization to the next level under his leadership ability."
Immediate Past President Dr. Janis Moriarty worked very closely with Conor throughout her recent Presidency. "The loss of Conor is palpable, which speaks to his presence," she says. "Having been on the Search Committee that selected him, we knew right away that he was something special. Upon hearing of his passing, fellow Search Committee member Dr. Andrea Fallon shared with me her reflection that 'Conor lit up the room and commanded it with a humbleness I have never experienced in an executive before.' "
Dr. Moriarty praises Conor's leadership skills managing the Society during the COVID-19 pandemic. "Even though we were forging through the most challenging times of the pandemic, Conor's leadership was steadfast and unflappable," she says. "Long Zoom [call] days always had a few minutes of personal conversation or humor. Due to the virtual nature of the last three months, Conor was actually able to meet an appreciable number of MDS members, as well as be present at all of our personal protective equipment [PPE] distribution days to meet many members and Board members face to face, while masked of course.
"There is no doubt he had already started to take MDS to the next level," she continues. "We deeply regret that we had so little time with him to sail to those levels."
The MDS Board of Trustees met on July 7 to ensure that the Society will continue to operate seamlessly and without disruption. The Board will work with the MDS management team to follow through on organizational commitments.