Dental Professionals as COVID-19 Vaccinators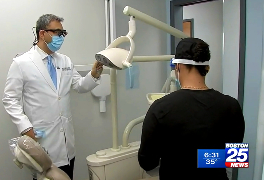 January 13, 2021 – Massachusetts Dental Society member dentists Drs. Abe Abdul, Joseph Costa, Michael Cooper, and Helen Livson spoke to reporters about dental professionals being included in the state's pool of COVID-19 vaccinators.
"For the longest time, even prior to COVID, I felt that the dental profession is in a good position in terms of even delivering the flu vaccine," said Dr. Abdul. "We understand anatomy, we understand pharmacology, we understand how to deal with complications."
Last month, the MDS adopted the American Dental Association policy on vaccines, including—when it became available—a safe and effective vaccine for COVID-19. The adopted resolution states that dentists have the requisite knowledge and skills to administer critical vaccines that prevent life- or health-threatening conditions and protect the life and health of patients and staff at the point of care.
Read the article from Boston25 News.